Outdoor Sports Field Lighting – 4H by Green Inova

Features:

◆High Protection Level Up To IP68

◆High Impact Resistance IK10 

◆Anti 17-level Wind Power capacity

◆High Vibration Resistance (Meets ANSI C136.31-2001 3G bridge and overpass vibration standards.)

◆More options: Surge protection, HD TV broadcasting, intelligent control,DMX control, RGB, 347-480V, dimmable, photocell,etc…

◆Beam angle:10°/16°/40°/60°/90°

◆7-year warranty & 100,000 hours lifespan

◆Meet multiple testing standard and certificate(UL/DLC/CB/CE/ENEC/SAA/SPE/EAC)

 

 

 

 

 

the following can provide general guidelines when deciding how to light a soccer field.

Recreational Level/Parks: 20-30fc

High School Level: 30-50fc

College Level: 50fc

Division I College Level: 75-100fc

Televised National (FIFA standards): 130-190fc

Televised International (FIFA standards): 170-225fc

These are just general guidelines. Lighting may be increased or decreased depending on your particular soccer lighting project.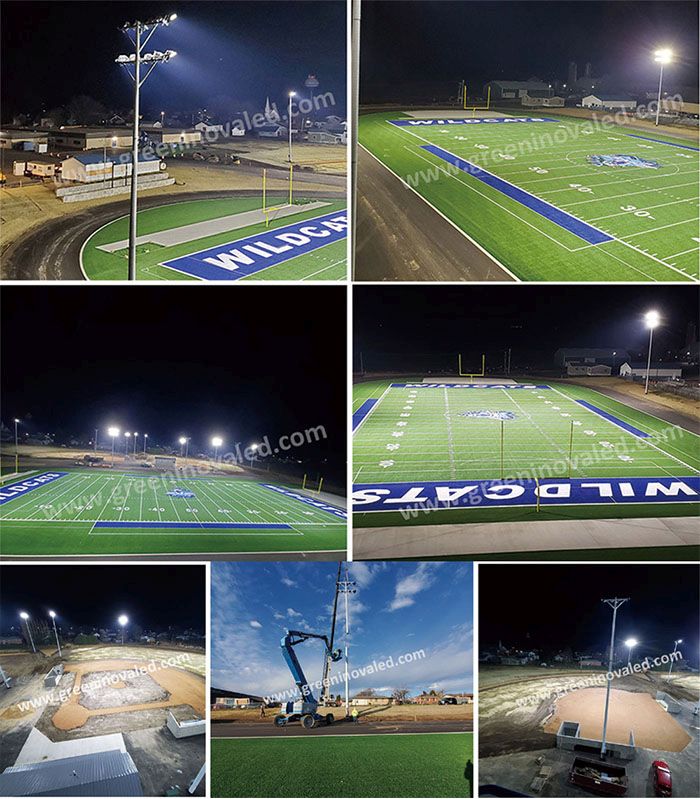 | | | | | |
| --- | --- | --- | --- | --- |
| Impressive Pitch | Existing MH/HPS | GI's solution | Pole's Height | LUX |
| Soccer Field | 4000W | 1200W | 30m | 1516 lux |
| Soccer Field | 4500W | 1420W | 40m | 1800 lux |
| Tennis Court | 1000W | 240W | 8m | 300 lux |
| Golf Court | 1500W | 790W | 15m | 200 lux |
| Rodeo Arena | 1500W | 600W | 15m | 200 lux |
| Soccer training field | 2000W | 790W | 15m | 200 lux |
Buy Direct and Save $$$ – All of our lighting fixtures ship factory direct to your facility. Call sales toll-free (1-844-533-7767)